Virtual Reality SubFest
What is it?

This festival within a festival features interactive, virtual reality performance and art works. A part of the 2006 Buffalo Infringement Festival.
3D stereo graphics are projected on a large screen and two head-mounted displays. Participants interact with virtual worlds, live actors, and artificial intelligence characters.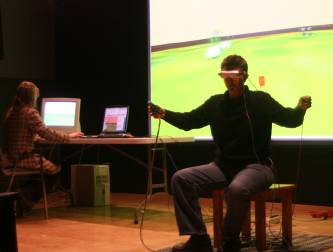 Location

Hallwalls, 341 Delaware Avenue (hallwalls.org)



Show times


Thursday August 3, 8:00 - 9:00 pm
Friday August 4, 6:00 - 9:00 pm
Saturday August 5, 2:00 - 7:00 pm
Sunday August 6, 4:00 - 7:00 pm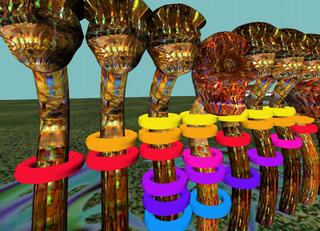 Virtual Works
"Human Trials", by Josephine Anstey
"A Bit of Handwaving", by Dave Pape
TBA, by Anton Hand
"Information Farm", by Ben Chang, Silvia Ruzanka, Joseph Ravens, & Katherine Behar
"Edia", by Willy Le Maitre
"Rutopia 2", by Daria Tsoupikova
"Beatbox", by Margaret Dolinsky
"Art Flying In and Out of Space", by Jackie Matisse and Dave Pape
and other works to be announced later